SG KOSHATTA & SG TALAHATCHEE on 12/26 - 2 weeks
bred to CAVALIER & to BOOTONNIERE
Talahatchee's buckling "AARON"
(reserved)
Talahatchee's doeling "RHEBA"
KOSHATTA'S Buckling "STRIKE UP THE BAND"
(reserved)
KOSHATTA'S doeling "RING OF FIRE"
SG Goldthwaite KOSHATTA 9*M N1375763, 4/06 LA 88, bred to G/Cavalier
Kidded 1/13/14 black banded doe - "Ring of Fire" and rusted black buck w/white band 2/3 up both sides - "Strike up the Band".
and
SG Goldthwaite TALAHATCHEE 8*M 1/07 N1406354 LA 88, bred to G/Bootonniere
Kidded 1/12/14 Black rusted doe w/speckled ears "Rheba" and Black rusted buck, speckled ears "Aaron"
Both does are pictured here about 2 weeks from their due dates on Jan 11 & 12. Two of my all time favorite does - long, deep, wide and powerful who produce some of my best kids.
Our same two does close to kidding last year, Koshatta with triplets and Talahatchee twins. (Again, Talahatchee on Rt, Koshatta on left. )
.
Goldthwaite MARCELLA LA 90
Goldthwaite MARCELLA LA 90. a first freshening daughter of KOSHATTA sired by G/Barishnikov (also a Dancer son) who milked thru for over 500 days, and still won her 2nd GCH leg at the Colo.State Fair when pictured here.
.
Goldthwaite Turandot @ 2 yrs 12 mo fresh
SG Goldthwaite TURANDOT - 3-08 a TALAHATCHEE/BOOTONNIER daughter pictured here as a two yr old after milking thru for over 12 mo. She appraised LA 87/VVVV at 1-05, which I believe was one of my highest scoring yearlings ever! Her 1st daughter was Best in Show her 1st show out!
.
SGCH GOLDTHWAITE HOORAH 9*M 1/05 N1334101 LA 88 (@ 2yrs, was never re-appraised) Photoed her a week from her 9th birthday! and bred back to BOOTONNIERE for Jan. 9. One of the most correct and awesome Merlin daughters we have ever had. Her 5 yr old daughter from this breeding - "Hoopla" appraised 90, and has a most awesome udder. We kept her son from this breeding last year, and his sister is in Russia. Looks like a nice group coming up!
SGCH GOLDTHWAITE HOORAH @8yrs,8mo this past summer. Pictured dry, to me she looks like a mature dry yearling!
Hoorah/Bootonniere daughter "Hoopla" yrlg. udder
Rear udder of yearling "HOOPLA" daughter from SGCH Hoorah & SG Bootonniere.
Goldthwaite WINTER ROSE - 2013 daughter of HOORAH and BOOTONNIERE. Photo taken at her new home with Irina Prokuran near Moscow, Russia -
.
Twin doelings born Jan 27, 2014
SGCH "HOORAH" & SG BOOTONNIERE
SGCH Goldthwaite TALLY HO about 2 wks off.
SGCH Goldthwaite TALLY HO 9*M 1/07
N1409898 - full sister to "HOORAH" - also due to SG BOOTONNIERE about Jan. 9. This breeding 5 yrs ago produced GCH Goldthwaite Xanadu LA 90, our coming 2 yr old "Tawi-Tawi", and our beautiful 2013 doeling "Tatiana"! They just don't get any better than this.
GCH GOLDTHWAITE XANADU LA 90
GCH Goldthwaite XANADU LA 90 3/08
5 yr old daughter of SGCH TALLY HO & BOOTONNIER
Goldthwaite TATIANA Jan '13 daughter of SGCH TALLY HO & BOOTONNIERE GCH Jr., Wyoming State Fair
.
Jan 17, 2014 "HARRISON"
SGCH TALLY HO & SG BOOTONNIERE
SG Goldthwaite PAVOROTTI N1447447 3-08 LA 88, due to CAVALIER early to mid Jan. Another long, strong & flashy doe, her kids should be very colorful.
.
2/11/14 PAVORATTI & CAVALIER
(doe at right)
GCH GOLDTHWAITE XANADU LA90
GCH Goldthwaite XANADU N1447449 3/08 LA 90 is bred to CAVALIER for mid January and can hardly fit into the feeder. She has had 4 exceptional daughters from BENZ, and I expect as much or more from this BENZ son out of EXOTIC DANCER!
GCH Goldthwaite XANADU LA 90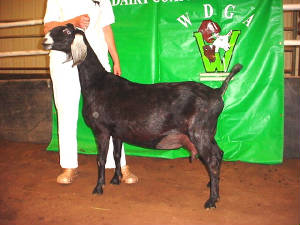 Goldthwaite ALORA - Xanadu/Benz daughter 1/12
Goldthwaite ALORA yearling daughter of GCH Xanadu and CH Benz. She has been practically undefeated in the show ring, except by her full sister.
1/11/14 Two DOES "Halle" & "Lujah"
.
DOES DUE IN FEBRUARY
.
GOLDTHWAITE LAMBERGINI N1518008 5-10
sire: CH BENZ dam: PASSION (Briannca daughter)
Goldthwaite LAMBERGINI is one of our prettiest daughters of CH BENZ. Her dam was a linebred daughter of SGCH Briannca. This photo was taken 6 weeks before she is due in mid February, so I can only imaging how many kids she will have. Last year she gave us three beautiful does from BOOTONNIERE, and is bred back to him. Now how could she top that?
GOLDTHWAITE ALYSHA N1650967 4/06/13
sire: BOOTONNIERE / dam: LAMBERGINI
1
Goldthwaite ZUNI N1650966 4/06/13
sire: BOOTONNIERE / dam: LAMBERGINI
.
SG GOLDTHWAITE UPTOWN N1517721 3/10
LA 91/EEEE 2 GCH legs dam:"JEWELS" LA 91/EEEE
SG Goldthwaite UPTOWN N1517721 3/10
LA 91/EEEE (both her dam "JEWELS" and her grand-dam "JEWELLIA" were also LA 91.
Uptown's sire "Majesty" was a full brother to our beautiful SGCH MADELAINE LA 90, and their dam was SGCH Clematis - also a LA 91.
With a background like that, it was no wonder Uptown started off her show career winning her class at the AGS National Show, and then going on to win BIS the following day at an ADGA sanctioned show under a different judge. Shown only once as a 2 yr old first freshener, she won GCH at the Colo.State Fair. This year she took reserve to her full sister a year younger, "BEJEWELLED".
.
Goldthwaite UPTOWN in June, 2010
UPTOWN is bred to "Coney Island" for mid February
.
Goldthwaite Basilan N1602601 4/18/12
sire: ORPHEUS dam: LADY BRIE
Goldthwaite BASILAN N1602601 4/12 is due to CONEY ISLAND on February 19. She is a daughter of SG Lady BRIE - from SGCH BRIANNCA, and is sired by ORPHEUS - a son of SGCH JEWELLIA and BOOTONNIERE.
This photo taken this Sept. after winning Jr.GCH at the Colorado State Fair.
.
GOLDTHWAITE HAWAII N1602570 3/01/12
sire: MAJESTY / dam: SGCH JEWELS
Goldthwaite HAWAII N 1602579 3/01/12
along with her sister KAUAI (now sold) were the last from this fantastic repeated breeding that produced UPTOWN and BEJEWELLED! She will be the last to freshen, and is due to Coney Island on about Feb. 20.
Enter content here