Visit us on Facebook! on our Goldthwaite Nubians page. lots of news and new photos, come and join us now!
.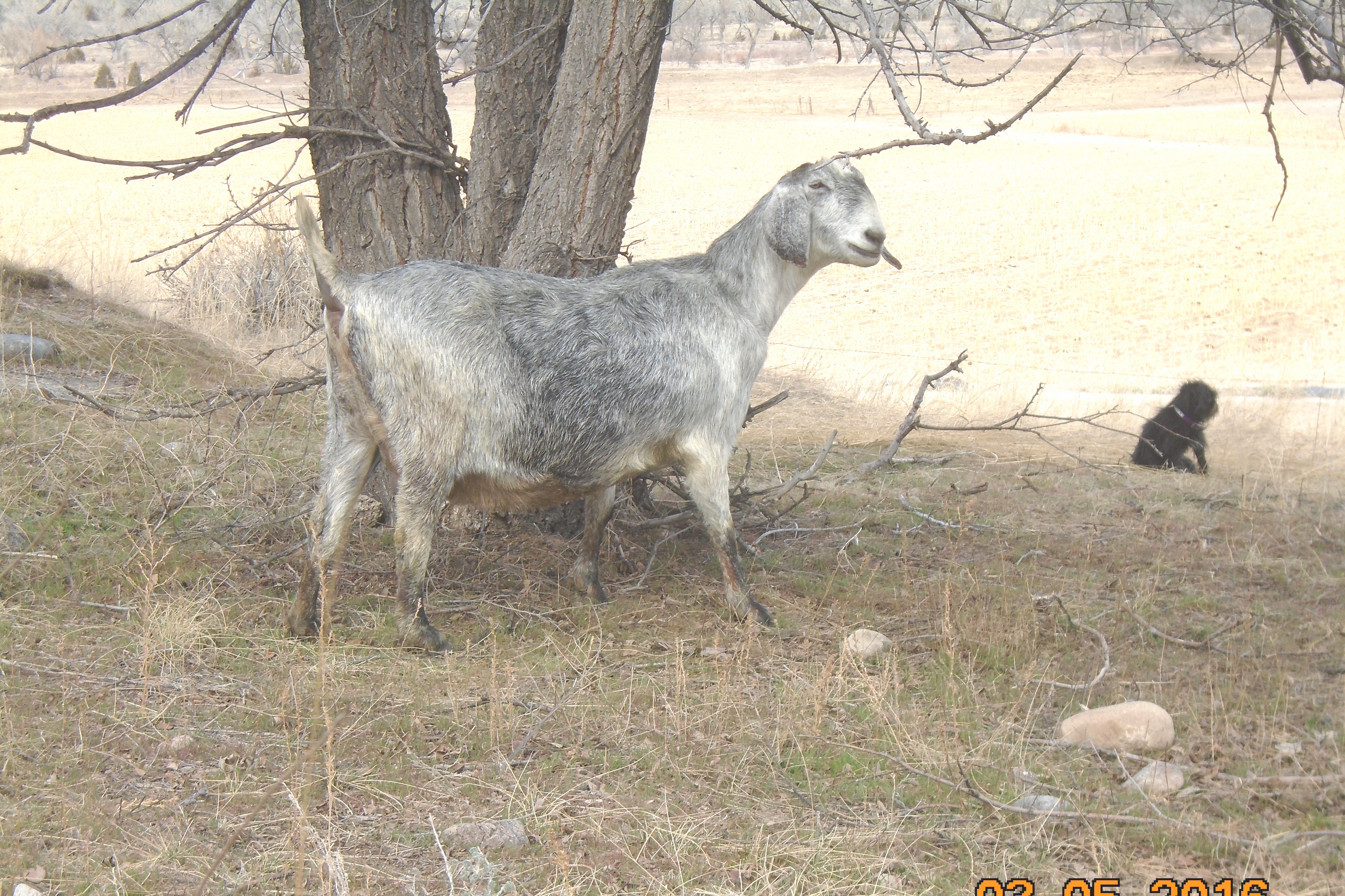 SILVERETTE - surveying her queendom!
UPDATE 3/18/16. We are just finishing up our 3rd round of kidding. Five does in Dec, a few in Feb (both here & at the Curds & Whey Dairy in California), and 5 or 6 does this month, the last two are imminent. and then the majority of our milking string from last year will be kidding out in April and early May.
We have one of the Dec. bucklings still available as his sale fell thru, and will begin having both buck and a few doe kids, as well as possibly yearlings & milkers, once our standing orders have been filled for this year.
All the milking does who have freshened so far were just posted on our Goldthwaite Nubians Facebook page so you can look there to see how the herd is developing for this year. Some of the newest babies may become available as time progresses.
Travel plans for this year will include a N/S trip from Texas in late April, a trip west to N.Calif & Oregon in early June, and the trip back East to Pa. for the National Show in early July, with likely transportation available South from there to Florida.
So we can pretty much get kids transported w/o having to rely on Air Shipment
BUCK SALE: I will regretfully be offering several of my older and proven bucks for sale this year. I kept two youngsters already this year, and two that I really liked and used from last years kidding. I will try to update the Sale Page with these asap. They will also be posted on FB. The will be bucks that I have kept and used in my own herd, out of my best does and appraised up to LA 91.
GOLDTHWAITE BEST THREE FEMALES,INBA SPECIALITY '14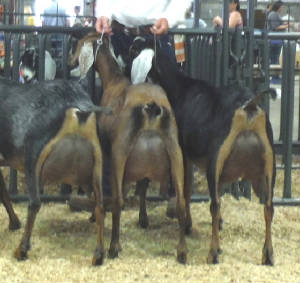 SOPHIA, MARCELLA, BEJEWELLED
Update 10/7/14
Altho I did not expect to do much showing this year, we did make it to three State Fairs, and finished all 3 of my three year old does.
SGCH BEJEWELLED was RGCH (to Sophia) at Wyoming & to Marcella in Amarillo Texas , GCH at Colorado and also in Amarillo.
GCH MARCELLA finished with a GCH win at Colorado and in the INBA Speciality Ring in Amarillo, Texas
SG SOPHIA finished with GCH & BOB in both rings at Wyoming as well as BOB in both Amarillo rings and Best UDDER of SHOW as well .
update 7/05/14
Long overdue: kids are all born, orders are all picked up (or almost), time to catch some breath and let people know how it is going. Beautiful kids again this year, and lots of new friends and homes for our Goldthwaite Nubians. My herd was getting very top heavy on the old & great side, but we lost more animals this past year than I can ever care to remember. It was their time, but I am never ready for that. Almost every one who died was a champion, and I realized I just don't get around to the shows any more like I used to. I am sure this list is not complete, but it started with SGCH Jewels, SGCH Exotic Dancer, CH Benz, CH Jewellburt, GCH Bonny Black, GCH Xanadu, SGCH Abacadabra, SG Enchanted, SGCH Briannca, just off the top of my mind! Most of these were up into the 7 to10 year range, or more. I also sold several of the does who had been appearing on my Sr. doe page for some years, as well as a whole bunch of first fresheners & even dry yearlings. I love where I live now up in Wyoming, but I moved away from all those who could help me, and it is very hard to find anyone wanting to work around here - and no one who knows how to or is willing to learn to milk. Along with my age creeping up on me and trying to slow me down, I had three serious falls - once knocked down full force by my young dog, next run over by the horses, and then another fall just a few weeks ago. My right arm isn't really good for much at all any more, and I am not sure about even showing goats. But we did attend our local show, and my daughter was judging one ring so we were limited to just the other, but managed to win both BIS Sr.Doe (Madelaine) and BIS Buck (Barishnikov), as well as GCH Jr with a yearling I sold to a friend. Am beginning to look forward to the fairs now as the milking string is down around a dozen, but it took some very hard letting go to get that far.
I have just updated the "FOR SALE" page, as have about filled all the orders. Have some really top choices yet in bucks (and I didn't even list them all), and do realize I will have to let a few of the doelings go as well when it comes right down to it. I did bring home some top older bucks that had been working in Texas, and Bari did finish his championship to make up for one of those losses. I am also keeping more yearling bucks to replace their sires who left last year, and one more baby buck this year "OLDSTYLE" from my beautiful Amaranth (also Einkorn's dam). So I am sure the show will go on.
Aug:2013 It has been quite a while since I have been doing any updating on this site, and for that I appologize. It has been a long and busy year, with keeping and breeding more does than I really should have, less help than I expected, and a severe drought and difficulty in getting hay and feed even at elevated prices.
Then I switched cameras, switched computers, and that has taken a long time as well, trying to get everything compatible. This month I managed to get 37 goats ready and to the Wyoming State Fair for the Nubian Speciality (including bucks!), where we were in the top of the classes in both rings, and named Primier Dairy Goat Breeder. Ten days later we had our annual Linear Appraisal on our younger stock with which we were very pleased = AND managed to get NEW Photos of most of the does. Watch for these photos to come up on the Sr.Doe page as well as on our GOLDTHWAITE NUBIANS FACEBOOK PAGE

That was followed by a weekend long conference between Carrie and I as to who we could let go of to make this whole thing more manageable for me. A lot of the doelings we just have to keep to see where our program is going!- but still have a few left we can sell! The old SGCH does (5 & over) were all retired and dried off or not brought into milk this year, and do have a lifetime home here. Many will still be bred for winter or spring '14, but will no longer be kept in milk. We only kept GCH Xanadu milking to fill the aged doe class and our Bootonniere Sr.Get at the fairs.

I did sell several of the first fresheners and some more dry yearlings this spring, but must sell at least 2 more of our favorite yearlings as we freshened so many this year. We will also be offering 2 of our 3 yr olds who are all out of our favorite old does SGCH BRIANNCA & SGCH EXOTIC DANCER and LA 90 & 91 bucks.

The herd made the trip to PUEBLO, CO. for the Colorado State Fair (Aug.31), where some of the already sold animals were picked up and taken further south into New Mexico and S.Western Colorado, as well as 3 of the 4 does offered were sold. (the 4th managed to sneak back out of the trailer while loading, and didn't make the trip!) The does did wonderfully, with GCH, RGCH, BOB, and one BIS win, as well as taking Premier Nubian Breeder and Exhibitor. I opted out of the Salt Lake Utah, for their State Fair, and altho I will not personally be attending the Tri-State Fair in Amarillo, Jose will be taking a few of the Nubians to the show down there.

Thank you for your support of GOLDTHWAITE NUBIANS!
Update: Winter 2012
Feb: We have pretty well settled in to our 2nd try at our "retirement" home, this time on an old ranch along the banks of the North Platt River near Historic Fort Laramie - the cutural center of the late 18th century. It is warmer here and we are protected from the "wild wyoming winds". The barns fill with warm sunlight early in the day, but will be sheltered by trees thru the heat of the summer. The goats all get out on long hikes thru the protecting hillsides or down along the river banks to browse. Please go to the new "OUR SWEET WYOMING HOME" page to see photos of them out and about this February. Many are looking quite pregnant and several will be kidding within the next month or so. Keep tuned to the "New Arrivals" page. The 7 babies from our lst 3 does are up there now, and are growing rapidly and more beautiful each day.
Our January adventure was to take a trip to visit friends and attend the Stock Show in Ft.Worth - a first. The weather was wonderful and the few does who went were in the top of their classes, with Jewellotti picking up a milking leg just 8 days after kidding. So this month we are just laying low and enjoying the continued good weather.
March will be really busy with me taking off about the time several of the does have kidded to judge a show in the Phillipines! I have told them to wait for me to return if they don't have their babies before I leave, but I believe there are a few who will kid for my reliable farm sitter. She has done it before!
More of my top does will kid in early to mid April, and this time I knew I would be gone to Georgia the end of the month so pulled the bucks. Just a few stragglers due in May - including last year's milking yearlings. Shows start again the end of the month, and then I need to be gone a few weekends in June for judging in Missouri and So. Dakota, but the does pretty much have the month off preparing for the ADGA Nationals which will be here at "home" in Northern Colorado, just 25 miles South of Wyoming and about 10 min. from Carrie's nome in Loveland.
I am looking forward to seeing many of our friends of Goldthwaite Nubians both at the Nationals, and hopefully at the shows I am judging in Missouri, Georgia, and Montana (State Fair July 28). Then we will hope to attend as well the State Fairs in Wyoming, Nebraska, Colorado, Texas (& possibly a few others) as we enjoy doing most years.
NEW! A 2011/2012 Winter OVERVIEW of GOLDTHWAITE NUBIANS! Please click here to go directly to this new page.
FALL 2011 Update:

Kidding season for 2011 began on Christmas day with several of our top does who were milked thru for last year delivering exciting babies from a buck we were able to use for the first time this year - "Barishnikov" - from "Intrepid"(a son or SGCH Talapoosa) and SGCH Exotic Dancer. Seven does kidded between Christmas and Jan. 14, two in Texas, two in Pueblo, Co. and three does here. We had 15 other does kid, mostly in March & April, a few in May, and our last bred yearling late in June. Almost all of the baby photos were put up on the "New Arrivals" page. We managed to hold onto 4 doelings here and 3 in Pueblo who will be bred for next spring, and a couple we will leave dry for 2012. We are in the process of breeding dry yearlings and several of the older does that we did not freshen this year, so it looks like babies will be arriving again starting late December.
We took most of the herd to the Quad show in Neosho Mo. in June, both to meet up with other friends going there, and to exhibit in the Nubian Speciality. The girls all did well, with several GCH wins: OPAL, AMARANTH, BONNIE, CASSIOPIA (Jr) & BEJEWELLED (Jr), RGCH wins - SILVERETTE & AMARANTH (twice), and at least 2 BOB wins with BRIANNCA & MADELAINE. We won most of the top placings in the Dist.V INBA Speciality classes, including the BOB with Madelaine.
We once again took Premier Breeder and Exhibitor at both the Colorado State Fair and the Tri-state Fair in Amarillo for a proud finish to the 2011 show season. We finished SGCH Bonny Black with her champion win in Colorado, and Silverette won her 2nd GCH leg, this time as a lst freshening milker. Several of our young does, including Lexus (with a BIS), Marcella, and Angel Baby got their dry leg for this year.
Jan.2011 UPDATE: I finally "retired" last January(to work full time with my goats) and the herd and I moved to Lingle,Wyoming the end of last year. The PO Box and phone will still be good, as well as a new mailing address in Lingle (see bottom of page).
We had a fantastic finish to the 2010 show year with SGCH Abacadabra winning BOB at both the Nebraska State Fair (over 50 nubians) , at the Nubian Speciality in Amarillo, and topped it all off with the BIS win in the Tri-State Fair ring as well! SGCH Briannca pulled down another Best Udder awards. Angel Gabriel, a first freshening Bootonniere daughter, took GCH at the Nebraska Fair, and quickly finished her permanent GCH a few weeks later at a fall show here in Colorado. Her paternal sister Silverette also continued her dominance in the Junior Ring with a GCH win at Nebraska AND a BIS at the Nubian Speciality in Amarillo!
OUR (old) HOME - IN CITY OF LONGMONT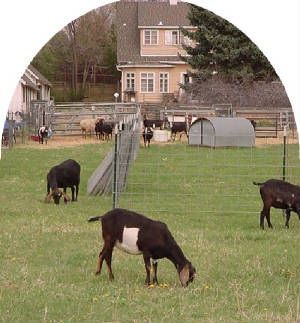 Small farm in Longmont, Co.
Enter subhead content here