These are some of our favorite does which have been sold over the past several years. The text at the bottom is from an earlier website and the photos are no longer available - but hopefully I will be able to find them so have left in the text.
SGCH GOLDTHWAITE DAPHNE N1412975 3/07
sire: MERLIN LA 89 (1st fresh)
GOLDTHWAITE B'LOU ANGEL 9*M
LA 88 VEVV (as Yrlg)
CH GOLDTHWAITE ANGEL GABRIEL 10* M
N001462185 3/08 1st Fr. - not appraised '10
SG GOLDTHWAITE JEWELLOTTI N1447450 3/08
LA 87 1 GCH leg '12 COCHISE / JEWELS
SGCH GOLDTHWAITE LADY JOHANNA 8*M N001232087
HES 91.3/91 mammary JOHAN / JULIETTE
GCH GOLDTHWAITE BUTTERFLY KISSES 9*M N001297152
LA87/VV+V (1st Fresh) HOMAR/ADIA
SGCH GOLDTHWAITE BLOU INVITATION 7*M N001297
LA 91 / EEEE HOMAR / BONNY B'LOU
GOLDTHWAITE SAPPHIRE N001444211
LA 86 /VEVV (yrlg) INTREPID / JEWELLIA
GOLDTHWAITE AMAZING GRACE N001335339
LA 84/VV++ SILVER & GOLD/ BONNY GRACE (full brother to Amaranth, full sister to Black Tie Affair)
SG GOLDTHWAITE DZIL 8*M N001411113
LA 85 VVVV (1st Fresh) ACE / RAPSODY
SG GOLDTHWAITE HANNAH 9*M N001339799
LA 88 / VVEV (lst fresh) BLACK MAGIC/JOHANNA
GOLDTHWAITE AMBROSIA'S AMICA N1444218 3/08
sire: BON RICO dam: SGCH AMBROSIA
GOLDTHWAITE B'LOU DANUBE 7*M N001297147
HOMAR / BONNY B'LOU
GOLDTHWAITE AMBROSIA'S ARIEL 9*M N001364664
LA 84 /+EV+ (1st fresh) TIED / AMBROSIA
SG GOLDTHWAITE WALTZ N001320850
LA 87/++VE HOMAR / CLEMENTI
GOLDTHWAITE PAINTED LADY N001335332
TIED UP IN SILVER / JULIETTE '05
SG GOLDTHWAITE MISTIQUE 8*M N001375761
LA 90 / VEEE MERLIN / CLEMATIS
GOLDTHWAITE PIKA B'LOU 8*M N001339800
LA 86/ VVE+ ACE / B'LOU DANUBE
GOLDTHWAITE HOZRO N001375765
LA 86 / +VEE BLACK MAGIC / B'LOU DANUBE
GOLDTHWAITE CASSIOPIA N1511677 1/10
LA84(yrl) 1 GCH leg BOOTONNIERE / EXOTIC DANCER
GOLDTHWAITE PRINCESS VALENTINA N1518115 2/10
LA86 1 GCH leg MAJESTY / XANADU (Booton/Tally Ho)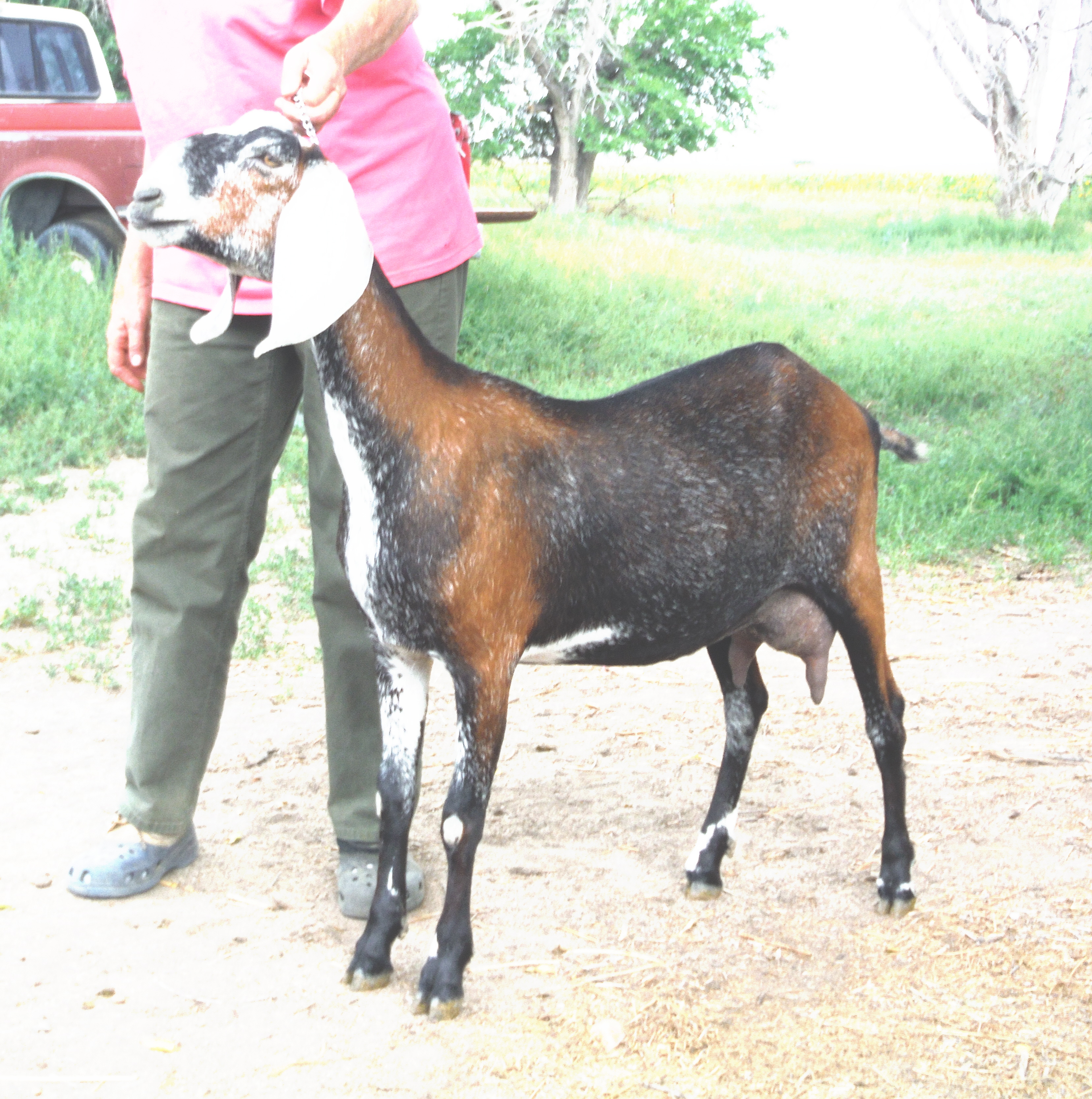 Goldthwaite CEBU N1602593 LA 83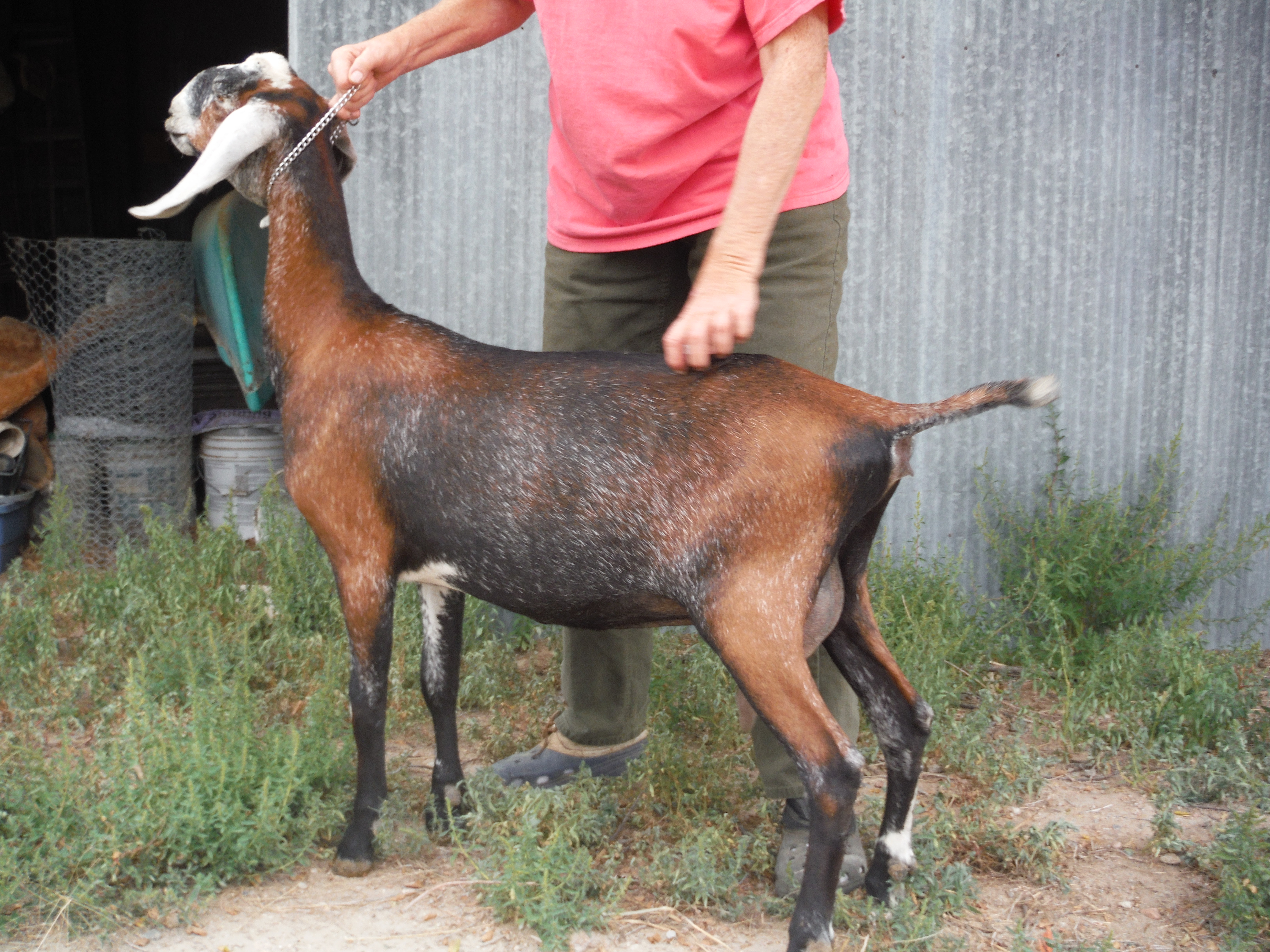 Goldthwaite CEBU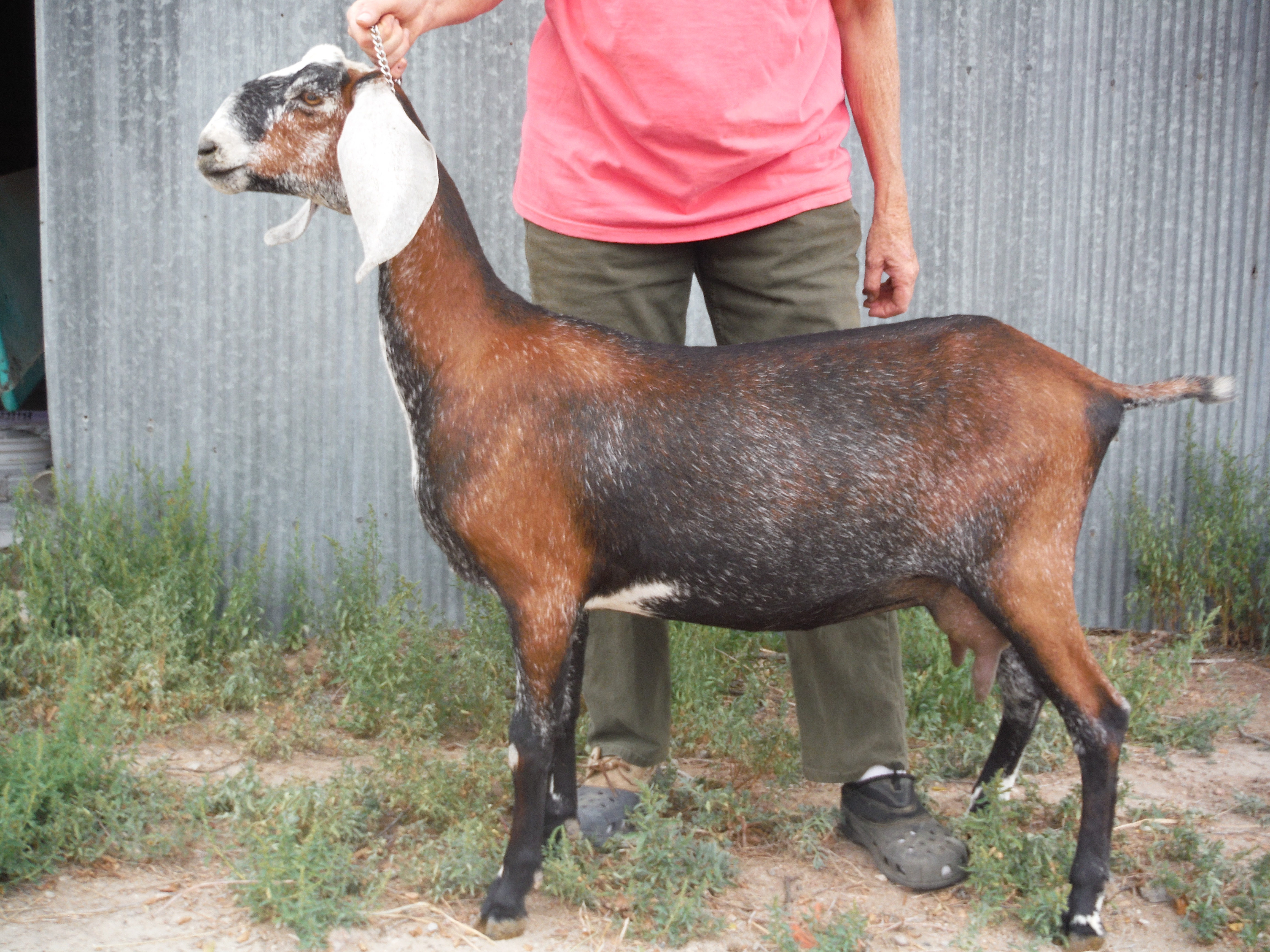 Goldthwaite CEBU N1602593 LA83 born 4/20/13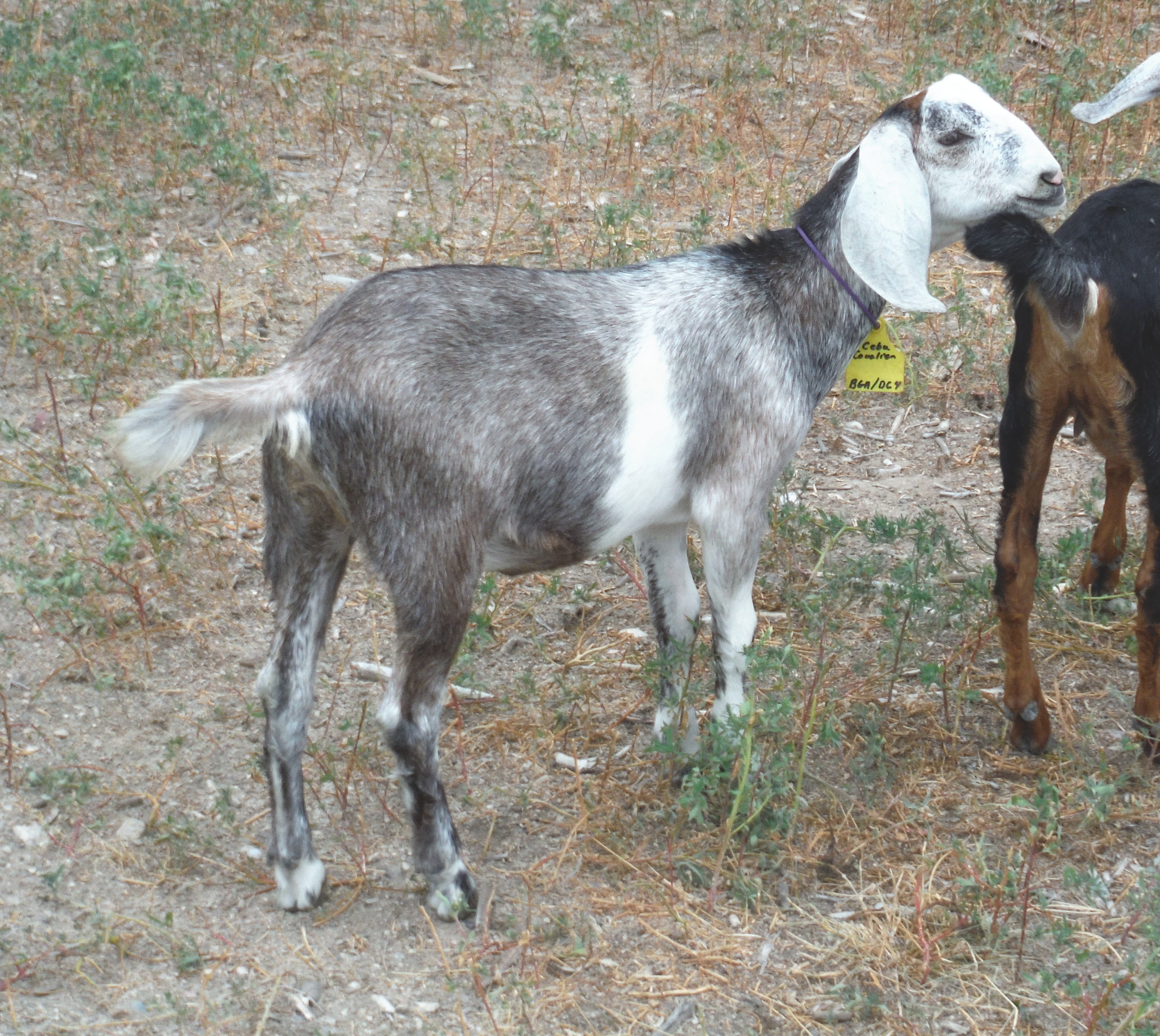 "SNOW" Cebu's daughter
DAM of CEBU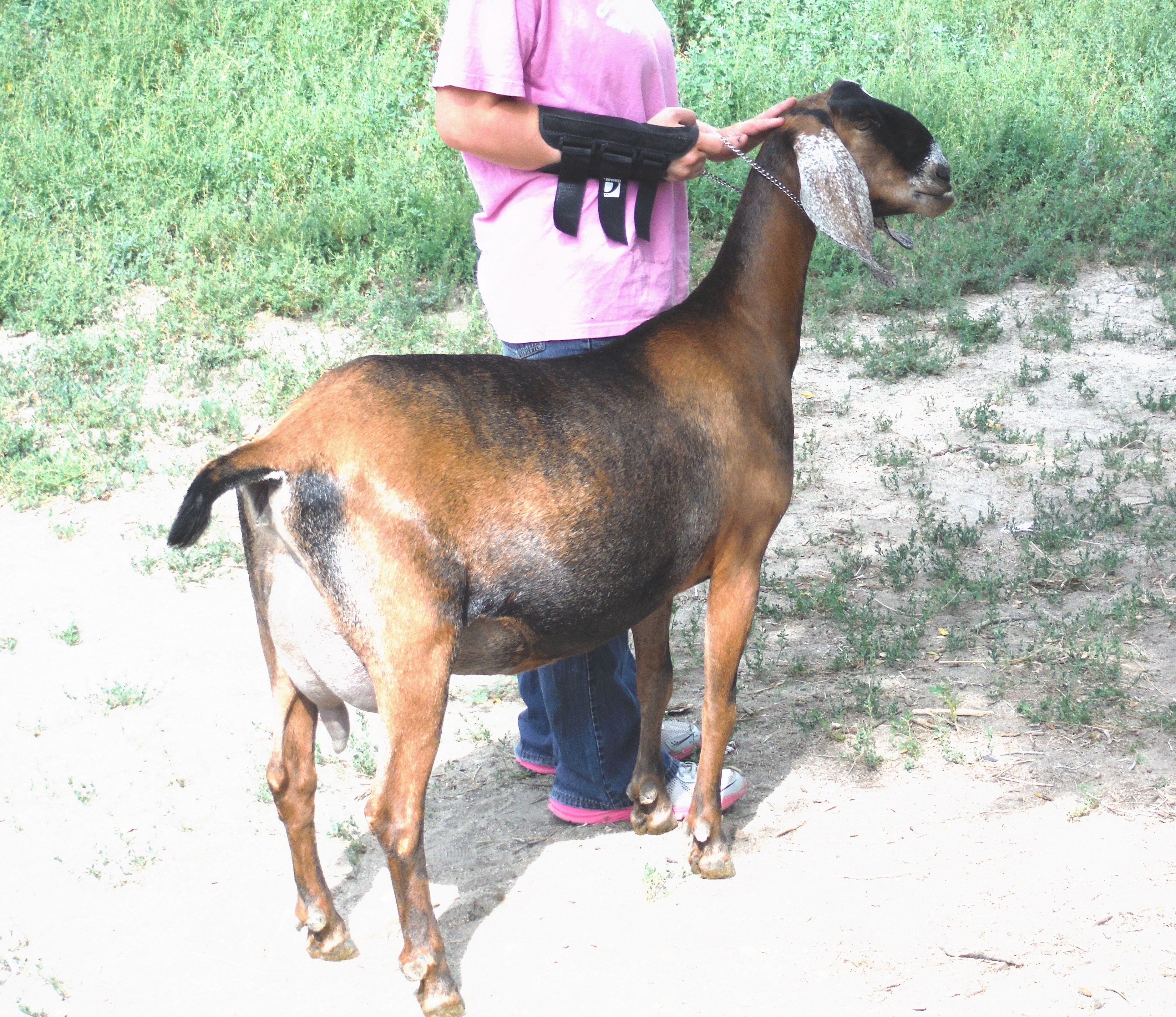 Goldthwaite MARCELLA LA 90 (pend) 2 yr - fresh 485 days
YEARLING DOE: SOLD
Goldthwaite MAUI N1602574 LA:83
Dam: Goldthwaite PAVOROTTI LA 88
Sire: SG Goldthwaite BOOTONNIERE LA 90
A beautiful Bootonniere daughter from one of my favorite does. MAUI was only shown once, and the huge and competitive Utah State Fair where she won her 1st leg as GCH Jr Doe. She is quite long, tall, dairy, and very correct. She aborted this year but we let her milk her small amount and could never really evaluate her udder. it could be a bit low in the rear, but she will be a very milky doe. $850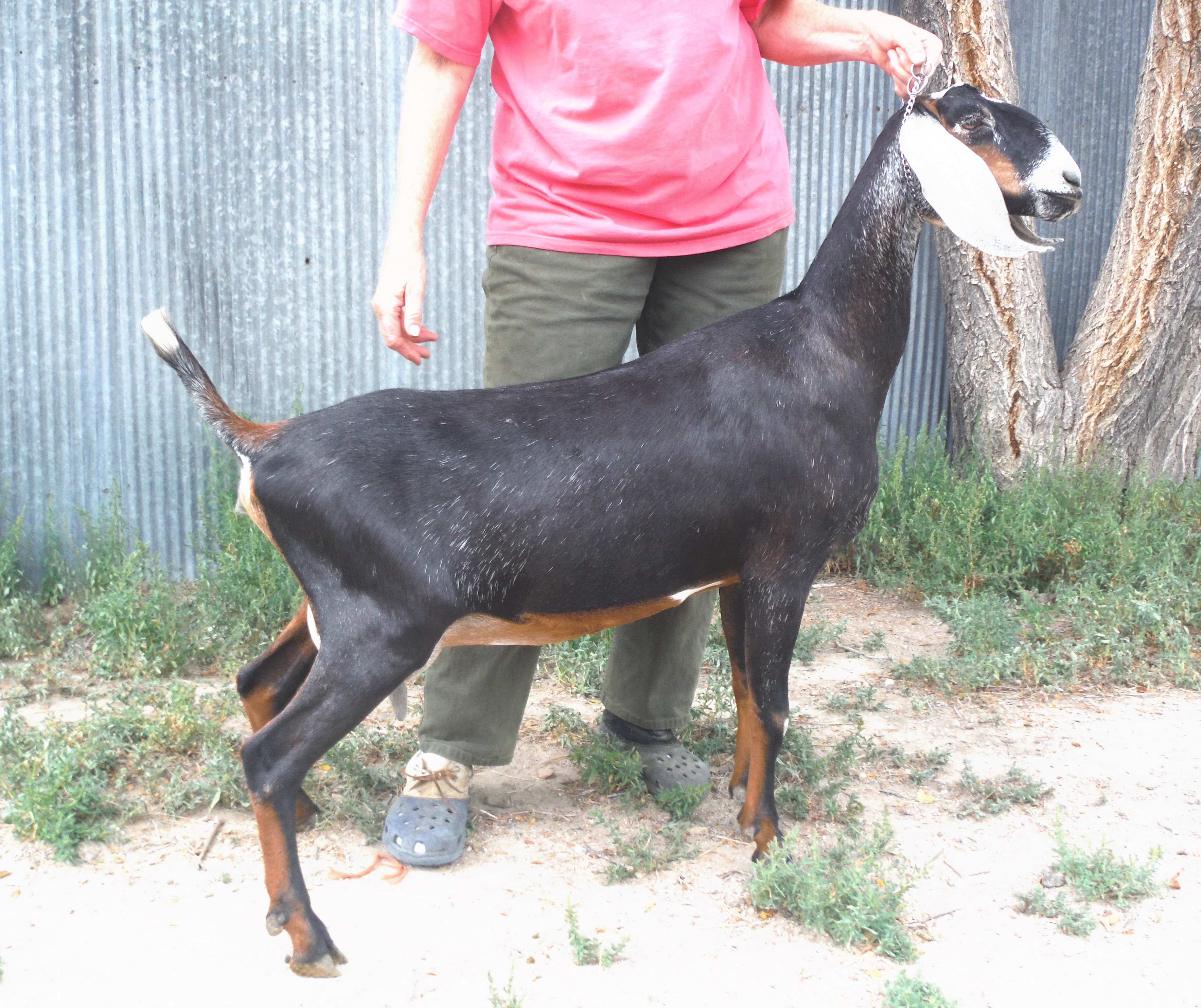 Goldthwaite MAUI N1447447 3/01/12 LA:83/VVV+
3 YR OLD DOE , 2ND FRESH 1/17/10
Goldthwaite CASSIOPIA N1511677 LA 87
Dam: SGCH G/ Exotic Dancer LA90
Sire: SG G/ Bootonniere LA90 SOLD
"Cassie" is a part of our winning Sr.Get of Sire for our senior buck "Bootonniere" . However, we have 8 or 9 mature daughters from this excellent buck, including finished champions, as well as at least 4 or 5 kids from this year we need to make a place for in the herd. We have never been able to get her excess weight off of her, esp. after freshening late as a yearling and then not getting her bred as a 2 yr old. She freshened again this year in January with beautiful twin does, but we feel she could make a better contribution as a foundation doe in a different herd. Her daughter Misha pictured here has only been shown once. A littermate sister "Lakisha" was GCH first show out. Cassie will be for sale at the end of the show season, but could be picked up at one of these last fairs. Her mother is one of the most correct does we have ever had in the herd, and we use her bucks heavily. $1000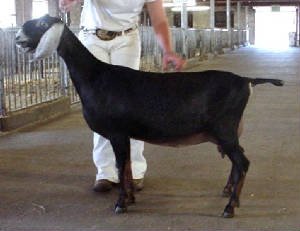 SG Goldthwaite Cassiopia - as yearling CSF '11
Photo taken this week at Appraisal session '13
SG Goldthwaite CASSIOPIA LA 87
"CASSIE'S" DAM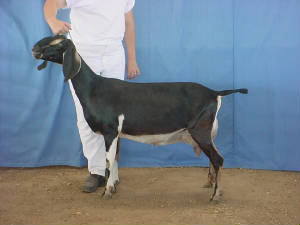 SGCH Goldthwaite EXOTIC DANCER as yrlg.
S: Desert Caper CC's Final Saga
D: Goldthwaite Honey-Moon

Dam of:
-GCH Lunar
-GCH Maya

Goldthwaite Inca
LA89 VVVE HES 90.45/89 Mammary
N1143250 DOB 5/03/99
| | |
| --- | --- |
| | |
| 2 yr old first freshener | 3 yr old |
S: *B GCH Goldthwaite Don Jose ("Omar" x Mkivuli)
D: GCH Goldthwaite Maya LA91 EEEE

Inca now resides with Alicia Bigelow in Kansas.

DHIR: 1-09 303d 2130# 105f 79p
2-10 305d 3280# 136f 118p

- 2002: 12th place3 year old at ADGA National Show, Part of 4th Place Best 3
Females w/ Maya and Juliette.
- 2001: 2 x's 1st, GCH Illinois State Fair and 1st place wins at both Wisconsin and
New Mexico State Fairs in huge 2 yr old Classes. She and her dam Maya
were practically undefeated in Dam & Daughter!

Dam of Inspiration (Sire is Lynhaven Prince of Paradise-High selling spotlight buck & son of National Champion.




GCH Goldthwaite O'Goodness
LA88 VEEV HES 92.5/91 mammary
N1119686 DOB 3/06/99

| | |
| --- | --- |
| | |
| 2 Years of age | 3 years of age |
S: *B GCH Goldthwaite Todos Tuxedo LA88
D: Goldthwaite Oregon Reign (Littermate to GCH Maya)

O'Goodness now resides in the Char's Misty Acres Farm herd with Ed and Char Luthy

DHIR: 1-01 305d 1920# 88f 67p
2-01 244d 2120# 87f 67p
3-01 292d 2820# 110f 87p (sick mid-lactation)

-2002: 2x GCH
-2001: 1x GCH, 2x RGCH
-1999: 2x GCH, 1 RGCH & 1 BJDIS

- Dam of Liberty and Mandolin

GCH Goldthwaite Mkivuli 4*M
LA90 EVEE
N0913026 DOB 12/07/92 Deceased

S: +*B GCH Goldthwaite Bon Chapeau
D: GCH Goldthwaite Morning Mystickle 3*M

DHIR: Life: 1715d 14250# 565f 537p

-2002: ADGA National Show Lifetime Milk Award
-1998: ADGA National Show High Milk and Fat Awards, BOB (P. Considine)
-1997: BDIS Missouri State Fair (H. Considine)
GCH, BOB (J.Hawes)
GCH (H. Considine)
GCH, BOB Tri-State Fair (Kirwan) , RGCH Western Idaho State Fair (Allen)

Dam of Kaleidoscope, high selling Spolight doe in '99, Princess & *B Johan LA/90.

Died 10/21/01 from a massive tumor - She is missed!

Dam of Princess


GCH Goldthwaite Midnitin Montgomery 6*M
LA91 EEEE / LA90 VEEE HES 90.9
N000979696 DOB 12/07/93 Deceased

S: +*B GCH Goldthwaite Bon Chapeau
D: Goldthwaite Waken Happy Heart

DHIR: Lifetime 1472d 11110# 500f 428p

5xGCH, 2xRGCH, 2xBOB & BUOB. -1997; BDIS, Calhan Colorado.

Dam of Puccini, Opelika - 1998 Spotlight Sale Doe, Talapoosa, Mardigras and MM Andalusia

Goldthwaite Mardigras 7*M
LA88 VVEV
N1119682 DOB 2/11/99 Deceased
S: ++*B GCH Goldthwaite Lunar LA90
D: GCH Goldthwaite Midnitin Montgomery 6*M LA91

-2002: ADGA National Show 4th Place Produce of Dam w/ Talapoosa

Goldthwaite Bon Bon 5*M
LA90 VEEE HES 90.5/91 Mammary
N000872278 DOB 11/27/91 Deceased

S: +*B GCH Goldthwaite Bon Chapeau
D: Goldthwaite Bonny B Lovely

DHIR: Lifetime 1482d 10860# 495f 394p

Dam of Bon Ton, Clementi, Impression, and Godiva and GCH *B Goldthwaite War Chief in the Pemberly Farms & Victory Meadows Herd in Texas.

Goldthwaite Godiva 6*M
LA91 EEEE HES 91.3
N001013521 DOB 2/01/96 Deceased

S: ++B GCH Dear Hearts "Omar" LA90 EEE
D: Goldthwaite Bon Bon La90 VEEE

DHIR: Lifetime 730d 5490# 245f 208p

-1999 ADGA National Show 12th Place 3 year old

Dam of JULIETTE, FRIAR TUCK, FRANGELICA

Goldthwaite Clementi
LA86 VVVV (1st freshener) HES 87.5
N001041516 DOB 4/05/97 Deceased

S: *B Prairie Fire Voyager LA88 VEV
D: Goldthwaite Bon Bon La90 VEEE

Pictured at 7 years of age. She is the dam of Clematis.

Dam of CLEMATIS, WALTZ, FANDANGO, & PAVON

GCH Goldthwaite Puccini 7*M
LA88 VVVE HES 90.5/92 Mammary
N001041499 DOB 1/22/97

S: *B GCH Goldthwaite Lunar LA90
D: GCH Goldthwaite Midnitin Montgomery 6*M LA91

DHIR: Life Time, In progress- 711d 5730# 228f 224p

-1999: GCH Wyoming State Fair, RGCH Colorado State Fair
-1998: RGCH Wyoming State Fair, 5x 1st yearling milker

Dam of KEEPER

Goldthwaite Wakan Happy Heart

N000688928 DOB 5/20/86 Deceased

S: C/F Aaron
D: Goldthwaite Bonny B'Lovely

Happy Heart is Tuxedo's granddam, Montgomery's dam, and maternal 1/2 sister to Bonny and Bon Bon

Goldthwaite Antonia
LA: VG89 EEVV
N001086665 DOB 4/21/98 Deceased

S: Goldthwaite Sterling LA88
D: Goldthwaite Vivaldi LA89

DHIR 1-06 367days 2408# 137f 118p

Daughter of VIVALDI

Dam of:
Antoinette (BIS Jr doe at Adams Co. Fair, 1xGCH in June of 2000)

Goldthwaite Vivaldi
LA88 VVVE HES 90.5/92 Mammary
N001041503 DOB 1/22/97

S: *B GCH Goldthwaite Todos Tuxedo LA88
D: Goldthwaite Amore ("Omar" daughter)

DHIR: 1-02 305d 2220# 86f 83p

Dam of SGCH ANTONIA, DEVINE, ACE in the HOLE

GCH Goldthwaite Villa Lobos
LA90 EEEE
N001041513 DOB 3/27/97


S: *B Prairie Fire Voyager LA88 VEV
D: Goldthwaite Bon Ton LA89 VEEE

Goldthwaite I.M. Princess
LA88 VEEV HES 90.85/92 mammary
N1145863 DOB 1/20/00
S: *B Prairie Fire Voyager LA88 VEV
D: Goldthwaite Bon Ton LA89 VEEE

DHIR: 1-03 302days 2110# 83f 82p
2-02 284days 3120# 98f 108p
3-02 275days 3190# 105f 109p
Lifetime: 761d 8520# 286f 299p

She is very interesting in that gives higher protein than fat - the only doe I have that does that!

Dam of :Precious, Countesse, Dutchess, Serendipity & Sarafina

Goldthwaite Amore
LA 88/VVEE HES 92/93 mammary
N000982632 DOB 2/11/95 Deceased
S: GCH Dear Hearts Omar +B LA90
D: Amani (maternal sister to Happy Heart, Bon Bon, & My Bonny Love)

DHIR 1-11 304 1250 112 88

Show: Many 1sts as yrl, 1x RGCH to Mkivuli & was GCH at W. Idaho State Fair as 2 yr old.
Dam of Vivaldi, and daughters in Texas, Oklahoma, Illinois, Kansas, & Canada.