JULY '12
I have added Pavorotti and Hatchee's (from last year) photos and appraisal scores. Jewellotti (LA87), Mimzie (LA89) and first fresheners Uptown(LA87), Jewellbilee (LA85) & Kostrama(LA84), as well as a 3 mo. full sister to CH Xanadu (Tawi-Tawi) who was EC-straight across, were all done in Pueblo and I do not yet have their letter scores or new photos. The two older does & the kid will be at Nationals where that will be corrected
JUNE 2012 - we are getting ready for appraisal, June 17, and Carrie came up for a few days so we got most of the does clipped up and tried to get some new shots of what the milking herd is looking like now. I choose to let most of the does nurse this year, so many shots were taken without the udders full. But these will be the first shots of most of our 1st and 2nd Fresheners. Photos taken on June 11. Missing does (Princess, Talahatchee & Pavorotti)hopefully will have photos taken on Appraisal day with their udders full? Jewels, Dancer, Tally Ho, & Enchanted are dry and Mimzie & Jewellotti are currently in Pueblo and will be appraised on June 24.

Also check the 2012 Show Page for the animals that we showed at the Ft.Worth Stock Show in January, and the Wyo."FUZZY" goat show on Memorial weekend.
"PAVOROTTI" & "MAUI" (one of her tripletts)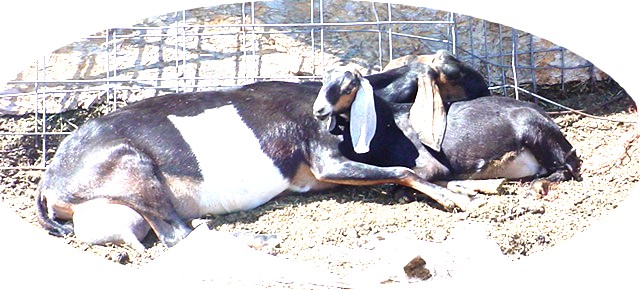 Pav opted to feed babies and take a nap, so will have to wait for a better photo of her!