GOLDTHWAITE NUBIANS
Click on this photo to read more about "OMAR"!
Goldthwaite winning "OMAR" get - SGCH Clematis (91), SGCH Talapoosa (91), SGCH Jewellia (91)
UPDATE 5/04/15 Kidding is just about drawing to a close. We have just one yearling left waiting to kid! and a couple of older does who were bred in Colorado and I did not get correct due dates on.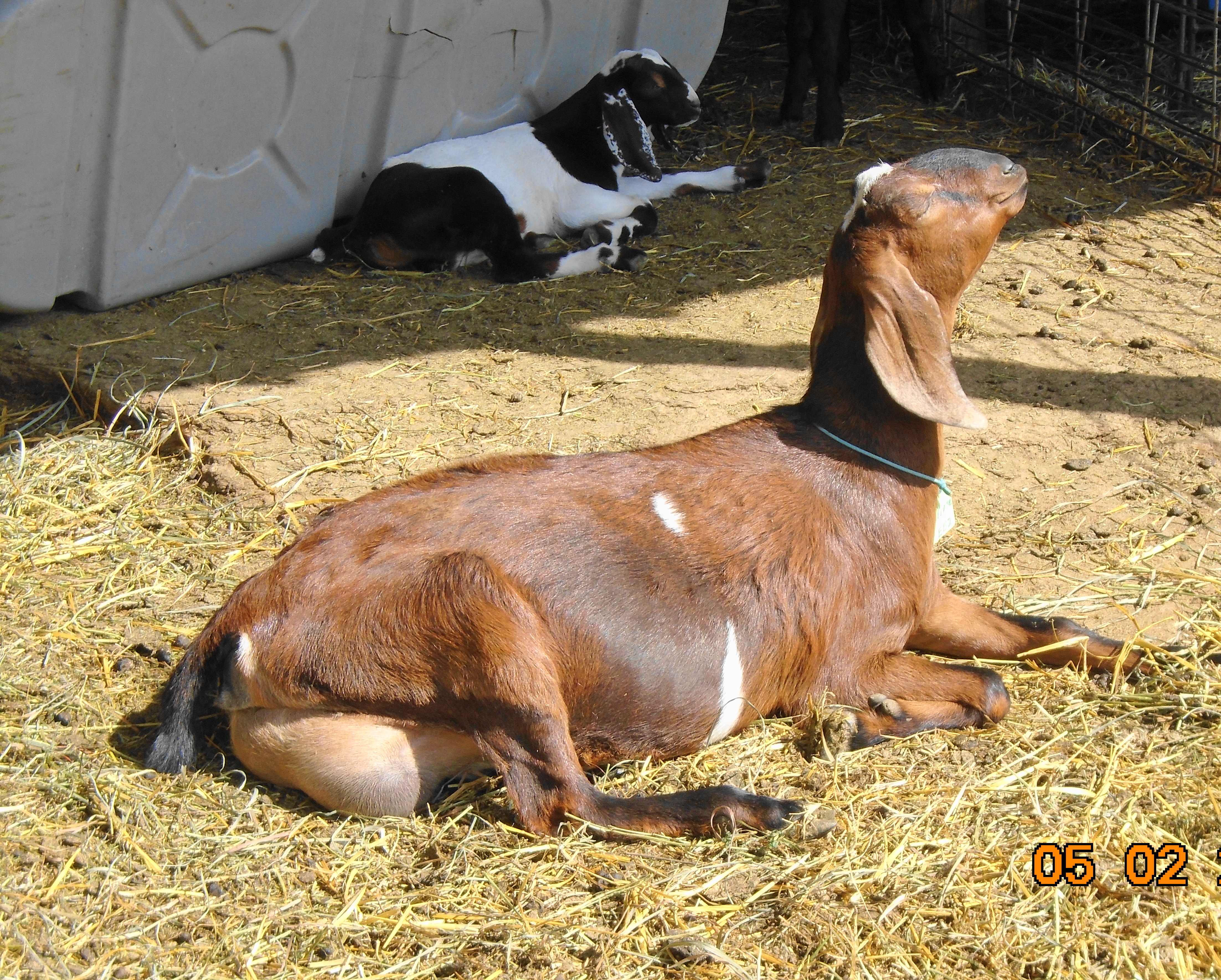 ECLIPSE waiting to kid any day!
I have just updated the 2015 Does Kidded page through March. Most all of these kids have been sold or promised. Had several yearlings and 2 yr olds kid in April and into the first of May, along with a few of our special older does. Seemed to give me a lot of bucks, but I have already retained 3 for my herd this year, and a few special does. I will want to have some time to evaluate the first fresheners before promising many of their bucklings, and I will work to post the rest of these as soon as possible. Most have photos up on my FB page for Goldthwaite Nubians.
We also have several of my best older does in California at the Curds & Whey Dairy. I will list their offspring as well, altho I do not have many photos of the kids, except for the ones I brought back with me in January. That will be amended as soon as kidding is over here and I can find time to get away and go visit there.
I am planning/hoping/praying to be able to get to the National Show in Central ORegon this summer. Would be glad to deliver any kids there or along the way.
Visit us on Facebook! on our Goldthwaite Nubians page. lots of news and new photos, come and join us now!
"Leading in Production, Performance & Type, since 1973"
For 40+ years now we have been breeding, raising, showing and milking DAIRY Goats. As the emphasis has always been on "DAIRY", we are proud of our continued high production and longevity through many generations. We feel this continuity is achieved by maintaining strong emphasis on correct body type, excellent mammaries, temperament and ease of milking. Although we have raised all the breeds, Nubians are our first love and what we have primarily focused on. AND! because we Love NUBIANS, we expect them to Look Like NUBIANS!



SGCH Jewellia daughter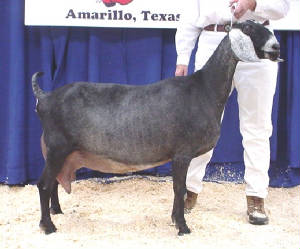 9*M SGCH GOLDTHWAITE JEWELS LA 91 @5 yrs
I have always bred the goats for what we want in a Nubian. The strongest emphasis is on temperament, production, & ease of hand milking - along with the strong and elegant conformation that will please me every time I walk out to the barnyard and that I know will last for years & years. Of course Excellent udders are an important part of that conformation.

Even though I breed for what I want, I know I can't keep them all - but neither am I anxious to get rid of them, and I rarely take pre-orders for a specific animal. People who wish to own a Goldthwaite Nubian have learned to be patient, and to just keep me appraised of their desires. I do keep lists of people interested in kids and milkers, and let them know as animals become available. I am limited by age and location and must sell many of my beloved animals, but I like to wait until I see what the total picture for the year is looking like. I also like to see my babies develop under my watchful eye and care, and would rather keep them a few months than to "Insist" they be picked up by 3 to 5 weeks or sooner. I like to see more of my total kid crop to pick with a mind for grouping than to just "keep the best and sell the rest!" I believe all my animals are good, and often sell the "best" as I feel they will have a better chance at making someone else happy. I am amazed at some of the animals I let go these past few years, but it is becoming more and more important for me to really cut back as I am alone and now into my 70's. Many of these does sold are shown on the updated "REFERENCE DOES 2 " page, I thank all the breeders and enthusiasts across the country to whom I entrusted my babies as well as many of my long-time favorites.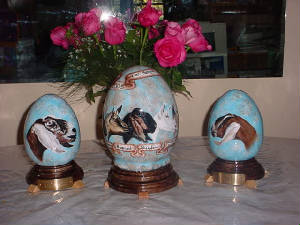 GCH & BDIS Trophy Eggs - State Fair in Amarillo, Tx.
We love to show whenever we can, particularly at State Fairs, where we have been winning many Best in Show, Best Udder, as well as nearly every Premier Exhibitor & Breeder award that we compete for. Our animals have not only been in the top placings and lineup at the ADGA National Shows for the past several years, but our bloodlines have been directly behind several of the top winners.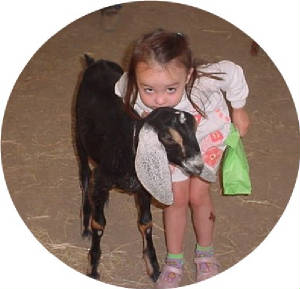 Grand-daughter Lana showing her goat "Enchanted" (SGCH Jewels daughter)
When I can get away to distant shows, I often take the animals with me that have been sold and meet buyers along the way. I had hoped to be able to make the trip to Kentucky in 2014 for one more National Show but it did not come to pass, so now am setting sites on Oregon for 2015, where we started in goats and showing over 40 yed ago.. I often have buyers that drive a long way to visit the farm and pick up goats and am happy to arrange transportation with them which helps with their expenses as well as making delivery much more reasonable for the other buyers.

We have been on continuous DHIR production testing since 1974 until last year (2013) when I had to let it go. I have picked it up again in 2014,and the girls are milking well. We had Linear Appraisal again this Sept., and I was happy to make it to at least three of my favorite state fairs - Wyoming State Fair, Colorado State Fair, and the Tri-State Fair in Amarillo~. See results in the update notes above.

With all the traveling and other life interruptions around here the production records reflect "reality". We have had several animals in the Top Ten over the years, but that has never been a specific goal. I shifted to Owner/Sampler testing in 2010 as it will now be accepted for the Advanced Registry and along with continued Linear Appraisal makes our animals qualify for the Superior Genetics program, but not the top ten.
I believe that excercise is important to all living creatures, and here we still have room for all to run and graze. We try to let our goats live as "Naturally" as possible, letting many of the younger does dam raise, with daily handling, but also do a Pasturizing CAE Prevention program, on tested negative colustrum and milk, on our early winter kids and whenever requested.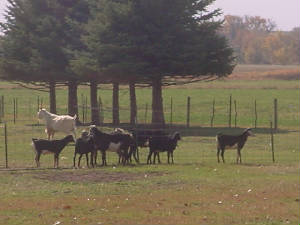 Buck Pasture in fall, Boulder, Colo.


Our goats are our best advertising, so we are presenting for the most part just their Photos and the statistics. Please feel free to call or write if you would like more particulars or information on any of the animals or planned breedings for 2015. We will begin kidding again in early January.
GCH all 3 Rings, CTDGA Spring Fling 6'09 (@2 yrs)
SGCH GOLDTHWAITE TALLY HO 9*M
FIRST PLACE 3 YR OLD, '08 NATIONAL SHOW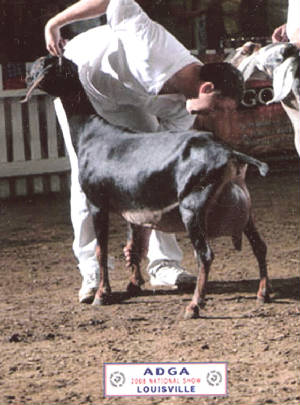 SGCH GOLDTHWAITE BRIANNCA LA 91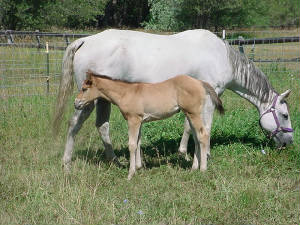 OUR OTHER LOVE - SUGAR & "FLICKA" (Born June '10)
Your friends in goats,
Beverly Baker Goldthwaite and Carrie Baker Kahle
GOLDTHWAITE NUBIANS
Beverly Goldthwaite & Carrie Baker-Kahle
2108 RD 84, LINGLE, WYO. 82223
720 560 8501